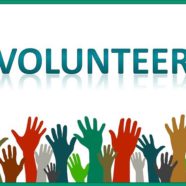 I believe it is really important to give back and volunteer in some way that shares your gifts and talents with your community.  When I grew my Healing Touch business in Mystic, CT, I created a community for health professionals to come together, share and support each other.  Before that, when my kids were young, I was on the board of our local community center and when they entered school, I volunteered in the library and in their class rooms when needed, because I love books, illustrations and reading to children.
There is so much you get out of volunteering besides the giving of your time and energy. It always feels like I get more than I give. I trust that wherever I am drawn to volunteer, I will meet the most amazing people to collaborate and be friends with.
It had been awhile since I last volunteered, ​so I was really excited when recently Judy Hawkins of Ruby Road Leadership asked me to join as one of the pitch coaches for Fast Pitch SB.
Imagine
40 pitch coaches partnering with
20 non-profits developing and refining a pitch over
10 quick weeks to become one of
10 finalists to present a final
3-minute "pitch" on social impact to a panel of judges and a live audience for cash rewards and celebration.
Santa Barbara's pitch will be October 15, 2015, at Deckers Rotunda.
Fast Pitch SB is a communications training program which Bill Gates has dubbed "a clever way to connect non-profits and social entrepreneurs with potential funders." SVP's Fast Pitch SB connects non-profit leaders with business, philanthropic, and non-profit executives who want to help them amplify their impact.
Through the two-month program, non-profit participants hone their ideas and messages through peer coaching and mentoring sessions, all while building relationships and networking with potential funders, board members and supporters.
My fellow pitch coach is Robin Elander, Director at Global Good Impact, and our non-profit is the Boys and Girls Clubs of Santa Maria Valley which is represented by Kathryn Scott.
If you are a non-profit that would like to benefit from the Fast Pitch SB communications program click on this SVP Fast Pitch SB link and apply for next year and come to the October 15th final event.
Fear Of Public Speaking Holding You back From Volunteering?
If you are interested in volunteering for a non-profit or project such as Fast Pitch, but are worried about speaking in front of a group of people, fear no more! I just made a series of "Fear of Public Speaking" tapping videos  because public speaking is one of my biggest fears. It is so encouraging to be learning about public speaking from Lisa B. and witness all of the speakers moving past their anxieties for the greater benefit of their recipients. With this 3-part-series you will quickly be able to overcome the fear of public speaking and have the courage to do it! Most of you are already familiar with tapping, so just jump right to the bottom and click on the video links. For those who are new to tapping, here's a brief overview of how to do it.
Tapping videos
Tapping or EFT (Emotional Freedom Technique) is one of the most powerful and effective mind/body techniques for clearing emotional blocks that keep you from achieving what you want. It works by tapping on acupressure points that let you access your subconscious mind, stops your fight/flight stress response and lowers your cortisol levels and so much more.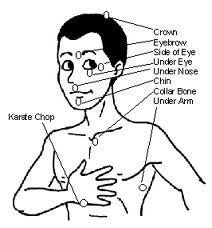 The above picture shows you the tapping points.  In my videos I use all of tapping points except the hand (Karate Chop) and side of the body (Under Arm). If you are familiar with tapping and have used other points simply follow what works for you. I have had great results with myself and my clients tapping how I do in the video, but do what feels right for you.
Tapping on Fear of Public Speaking Part 1-Body Sensations
Tapping on Fear of Public Speaking Part 2-Feelings and Thoughts
Tapping on Fear of Public Speaking Part 3-Desired Stage Presence
To You, finding a great cause & enrich your community,
Marilyn