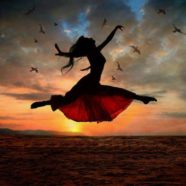 You have a lot of untapped potential brilliance and energy in you that this tapping session will open up. You will shift your perception of yourself to being whole, resourceful, creative and brilliant. This new perspective will attract inspirations, ideas, people and situations that support your growth.
There is a lot more to you than you have currently experienced.
This tapping video will help you tune into your potential and untapped brilliance with an open mind and heart.
When you are asking for more in your life it is important for you to put yourself into good feelings about what you're creating. In other words, paying attention to how you feel about your potential is key to manifesting what you desire. If you are not happy and play out unhappiness, you will get what you don't want not what you asked for. Your perception is key to how you feel. Tapping will help you change your perception and open new ways of feeling about yourself and the world. Do this and your world will change.
Please share this if it has been beneficial to you!
Leave me comments or questions. I read and respond to all.