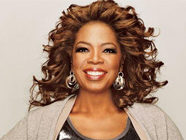 ~ Oprah said: "You are responsible for your life. And what is your life? What is all life? What is every flower, every rock, every tree, and every human being? Energy! And you are responsible for the energy that you create for yourself and you are responsible for the energy you bring to others. ALL LIFE IS ENERGY, and we are transmitting it every 
moment. We are beaming it…little tiny signals, like radio 
frequencies, and the world is responding in kind." Ask yourself, "What energy are you bringing to your life?" "What signals are you sending?" ~  on her...
Read More