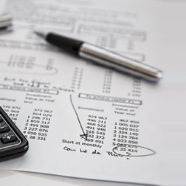 This is the time of year. TAXES. Ahhh. Many of you, sensitive creatives & entrepreneurs, may be pulling your hair out just about now. Your whole body is rearing up like a wild horse, resisting to get your taxes done, procrastinating to collect all the information, data and documents needed to finish this unenjoyable task. Maybe this is the first year you have to do business taxes because you just started your first business last year. Congratulations on taking the step to enter the world of creative entrepreneurs!
If you are a creative, taxes are just not your thing, but you can do something to get rid of the stress around doing your taxes. You can do something about your resistance to change, to paying attention to your money and to you being successful. In this video I am talking about some of the problems surrounding getting those taxes done and offer 2 solutions to help you get past procrastination and letting go of resistance.
Knowing what your hidden money vows are is the best way to get rid of your resistance long term. The general tapping for resistance and embracing change is very helpful, but if you can do the tappings more targeted towards your exact money vows, it will be a powerful, long term transformation.
Please share comments or ask questions below!
And please share this if you feel it can help others!
Thank you!!!!!
If you are not sure what your hidden money vows are, the Money Map will be an undeniable success tool for you. Sign up for a Money Mapping Session with me and you will see how your income will blossom. I know once I finally worked through and cleared all my own vows against creating and maintaining actual wealth I've been up-leveling every year since and there's no going back!
Here's is what coach Shelley Rezai said when she took the Money Map Session with me:
"The Money Map session with Marilyn was amazing! So many aha moments and dots connected. In a relatively short time, I came away with so much clarity. She is kind, generous and incredibly insightful. Working with her left me feeling light and hopeful. I have always felt self-aware and fulfilled for the most part, but just felt so stuck in this area of my life and as a coach myself, I felt like I had access to many tools and resources, but just kept hitting a wall. When I connected with Marilyn, I knew she was just what I needed. I left our sessions feeling empowered and educated and things shifted immediately. I recommend anyone that feels stuck or blocked work with Marilyn. It is powerful!"