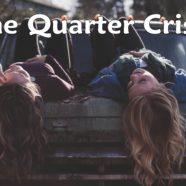 Samantha Matt, founder and editor-in-chief of Forever TwentySomethings talks about staying motivated to do what you love doing, the quarter life crisis, how social media glamorizes mundane life and the best advise she ever received.
Samantha shares how she started the website and monetizes on it while working a full-time job and while passing on your social life is sometimes the right thing to do. Learn about he biggest lie she (and many twenty-somethings) has told herself and what she would tell her younger self.
If you're in your twenties, listen to Samantha and don't abide by any timelines, but rather go with the flow. You are still young, so stay calm and follow your dreams!
Learn more about Samantha and Forevertwentysomethings.com:
Facebook
Personal: https://www.facebook.com/samanthamattwrites/
Website:  https://www.facebook.com/forevertwentysomethings/
Twitter + Instagram
Personal: @samanthamatt1
Website: @forever20tweets
Podcast: Play in new window | Download (Duration: 29:54 — 28.7MB) | Embed
Subscribe: RSS