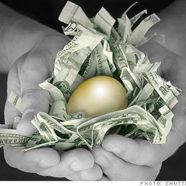 In this Millennials & Money Cafe podcast you will learn what your negative mind & body programmings are
around having more money in your savings account.  I take you through a process to help clear your feelings and thoughts that are causing you stress around your savings, so you can begin to save and create more money in your life.
You'd be surprised at how many people are uncomfortable having money in their savings account. 
Money traumas as a child make you relate money to pain, suffering, lack of love and more, which makes holding on to money almost impossible, because who wants to hold on to pain, suffering and lack of love?
Can you relate?
As a result of these childhood traumas and family beliefs you've created a wall of resistance in your life related to your feelings around money and this is creating your current savings situation.
Until you change your resistance and relationship with money your situation will remain the same! 
Please rate my podcast if you listen to it on iTunes and subscribe to it so you never miss a new episode!
I am always excited to hear from you! E-mail me or leave a comment on the website. Let me know how the tappings work for you, if you have any questions, if you would like me to cover other topics or if you just want to say hi.
Loving you
Marilyn
Podcast: Play in new window | Download (Duration: 1:00:06 — 10.5MB) | Embed
Subscribe: RSS