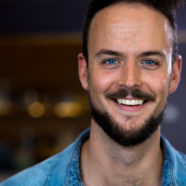 Tom Crawshaw shares his secrets on how to Level Up and Kick some a**.
Knowing and experiencing that the Western Societal Ideal, the American Dream and Pursuit of Happiness, is broken Tom set out and committed to change his life and experienced the most dramatic jump in change when he hired a mindset and business coach. Tom will discuss with Marilyn why you don't get what you WANT, you get what you COMMIT to and how to frame your fear to turn it into excitement.
Learn the 4 A's of Moving through and Evolving your Mindset in this weeks episode of Millennials & Money Cafe with Marilyn O'Malley.
Receive Tom's Free Mindset Hacks at www.theriseacademy.com/mindset-hacks
More About Tom:
Tom Crawshaw also known as The Adventure-preneur helps entrepreneurs and business owners face their fears, change their story and create abundance in business and life through a transformative adventure experience through his company The Rise-Up Academy.
Tom runs a 3-day Adventure Breakthrough Experiences for entrepreneurs designed to test their limits and bring them face to face with their deepest fears.They do things like jumping off waterfalls, canyoning and skydiving. These activities will bring up a tremendous amount of fear and they use these experiences to gain perspective on our ego and limiting beliefs.
You can read full story here >> http://theriseupacademy.com
Tom quit his job and started his first business with NO IDEA on what he was doing and learned as he went along. 3 Years later he created a multiple 6-figure business and now travels the world climbing mountains and jumping out of aeroplanes!
To learn more about Tom's Adventure Breakthrough go to:
To Connect with Tom on Social Media go to: www.facebook.com/tomcrawshaw
Podcast: Play in new window | Download (Duration: 50:50 — 46.7MB) | Embed
Subscribe: RSS