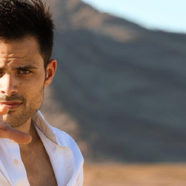 Astrologer David Palmer, aka The Leo King, shares with us how he is here to awaken our souls back to their happy and true soul purpose through sound healing, astrology and channeling creative energy. He is going to challenge a lot of your beliefs in this interview and hopefully wake you up to who you really are.
As a very sensitive, charismatic, dynamic leader and high energy personality, David  shares his previous challenges with drugs and low esteem and how the rave scene cycled love back into his life. The music community  transformed him and his gift of astrology reading. After a humbling experience on TV, David decided to dedicate his life to helping people and Spirit every day.
Part of falling down is getting up and being greater. ~David Palmer
David challenges many people with his belief in fate and destiny rather than free will. Listen to what he has to say about what he has learned through astrology and channeling.
Learn how astrology determines what is going on with mankind and determining your life. He share why it is important for you to get on the Devine clock system instead of struggling with humanities ego time line.
Is our life a movie that has already happened, are all our life's moments already planed? Listen in and learn what he has to say about the Collective Horoscope vs. the individual one.
The age of Aquarius is bringing in the answers we've been wanting through technology and awareness. ~ David Palmer
David wants you to think about your life as a movie theater. Find the best seat and get comfortable and have Angels serving you coffee and popcorn. Astrology has timing and rules and our job is to not go against the plan that has already happened in the Universe. Appreciate the moment and find the purity in your life. Stop getting caught up in distractions. Are you going to free yourself or put yourself in more traps?
Astrology highly suggests that you do your research before you believe in anything!!!!
Find out how humanity is trapping itself.
What is true freedom?
Connect with David Palmer, aka The Leo King at:
www.spiritualdance.com (virtual new and full moon dance parties and readings)
Podcast: Play in new window | Download (Duration: 47:21 — 23.1MB) | Embed
Subscribe: RSS