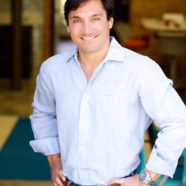 This Millennials and Money Cafe Podcast interview is with Dan Negroni, who is helping Millennials and Baby Boomers resolve cross-generational issues in the workplace through his new book, Chasing Relevance, and coaching programs. Dan is a business management and talent development consultant and coach addressing today's critical cross generational issues. He leverages his authentic, no nonsense approach and experience to help companies bridge the gap between managers and their millennial workforce.
"Where youth and experience meets is where the all the magic happens"~ Dan Negroni
In this podcast you will learn about
The main problem Dan sees keeping the gap between the working generations
is poor communication skills and false beliefs.
Mindset is the first issue to address in the work place. People have all sorts of myths about each other in regards to needs, desires, expectations, sex, values, roles, culture…etc. Both management and employees need to ask more questions of each other and stop assuming and projecting onto the other generation.
Communication issues are a result of bad information and mindset. This is because there is not relationship between management and employees. Creating healthy relationships in the workplace is key to better business and personal satisfaction.
Understanding who they are and the value they offer is key to both generations. Learning how to effect within yourself first helps you to bridge the gap in any relationship.
There are many tips, like the ones below, in the interview
Millennial tip: Understand you can only control yourself, so do your inner work for better relationships.
BabyBoomer tip: Stop the nonsense of false myths about Millennials and
work on yourself to create better communication in the workplace.
Millennial tip: Learn to ask questions about your boss or manager in order
to better understand what you don't know.
Millennial tip: understand yourself inside-out and then you will know that what you are asking for is something you deserve and it is a reasonable thing to ask and will provide value to others.
Steps you can take to prepare to grow and learn in the workplace
Understand the power of relationships
Know you strengths
Know your skills, passions and value you bring
Define how you want to be perceived in the world
Develop your story and be able to communicate it
71% of millennials are disengaged in the workplace, meaning they want to find another job.
Dan wants CEO's and managers to know that to be successful in their business they need to take care of their employees. That they have an obligation to support Millennials in finding their way in their workplace. Millennials can ask for support from their boss by asking questions that are focused on learning and serving.
Learn how you can self-mentor
Learn to understand yourself better
Learn how to I attract the right mentors
Take full responsibility for your growth and learning
Build relationships
Chasing Relevance,
6 Steps To Understand, Engage, and Maximize Next-Generation Leaders in the Workplace, by Dan Negroni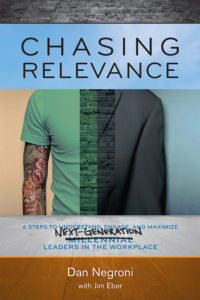 Launchbox365.com
Please leave comments about what was helpful about this interview or questions your may have, so we can all learn more about each other.
Podcast: Play in new window | Download (Duration: 46:44 — 44.2MB) | Embed
Subscribe: RSS