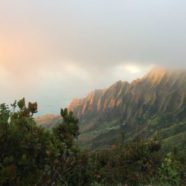 The world can feel like a crazy place right now and you can do things to manage your life to feel more grounded, connected and creative. Todays challenges are nudges from the Universe to wake up and be your brilliant self and get back on your path.  When we are faced with business problems, health issues, or relationship blowups, we tend to become more micro focused what is not working and feeling bad about yourself rather than creating solutions and creating something new.
When you KNOW you are connected to a support system bigger than you ( Source/God/Quantum Field) and that you are always creating with it, you'll not be stifled by your problems.
Solutions lie outside of the problem, focusing on the problems keep you stuck, making more problems. You can't solve a problem with the same mindset and beliefs that created it. You have to direct your mind to higher energy thoughts, creating elevated feelings about your situation to allow for new opportunities.
Old habits and beliefs keep you from creating more opportunities
by keeping your focus small.
Your unconscious habits and beliefs will keep you producing the same results unless you do something different that elevates your mind and energy. Your patterns can make you feel like you're a looser or a hamster on a wheel going nowhere. Right! Challengers come up to wake you up and let you see that something has to change within you, your business, your family, the nation…etc is out of alignment and needs to reinvention.
In these videos I share with you how to expand your scope of what is possible. Change is necessary for you to grow into the fullest authentic version of yourself through new opportunities. New opportunities are created  from your connection to Source/God/Quantum Field and your focus on what you desire to create.  Novelty excites your brain creating new neuropath ways and if you're enjoying yourself, raises your vibrational frequency attracting more new people, events and situations into your life.
In the first video below, I give you some tools and processes to feel more grounded and connected to Source and yourself. Doing this alone will help raise your vibration, calming you and allowing you to feel safe and more supported.
 How to easily connect to Source and create more opportunities Part 1

The second video shares how to broaden your mind and opportunities. A lot of times we get caught up in the little things and forget what is really important. (I share a story of when I lived on Kauai when I was 21yrs. old.)  More opportunities show up when you live from a broader perspective.
How to easily connect to Source and create more opportunities Part 2

What to do to make your life better, so you can fully express yourself on your path:
Clear your energy, Give back people's energy, ground in your body
Get to KNOW your connection to everything
Listen to your intuition
Manage your thoughts and feelings (what do you want to feel and think)
Be your own person (no one else is like you)
Make a "variety" of new friends
Fall in love with yourself
Meditate
Travel
Move your body
Sleep 8 hours
Hydrate
 Nourish yourself
Do things that bring you pleasure
Learn and grow
Break habits
Experience new things often
Challenge yourself to overcome a fear
If you found this useful please share it with others.
I'd love to hear from you to continue the conversation so leave a comment below.