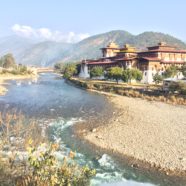 I've been home adjusting to the new ME for several days now. I've returned from a transformative trip to Cambodia (four days,) a Tribal Trust journey to Bhutan (10 days), and three days in Bangkok.
I am still in the middle of assimilating to
The new time changes on my return, so I could go to sleep on PST time instead of Bhutan time.
The many blessings I received in the temples and the profound peaceful energy of love and happiness I connected to in the temples of Bhutan, the countryside, and with the Bhutanese people who live filled with love, happiness, compassion, and faith.
How to best integrate and honor the new me…a work in progress
I wanted to make sure I didn't jump unconsciously back into "business as usual," as I am not the "usual business" anymore. I'm wondering who I am with this new energy and perception. How can I model even a small percentage of the awesomeness of what I received? What am I to do and be with this information? How has it changed my life?
Being immersed in the unknown of traveling and allowing myself to show up and feel my way through everything new, changed me. It created new neuro-pathways in my brain, which changes how my brain operates and opens my mind to new perceptions and beliefs about the world and myself.
These changes within me will result in new possibilities and outcomes in my life.
I've never felt so connected to a country as I do to Bhutan. It could have been our adventure guides from Yangphel Adventure Travel and the care and attention we received from them. As they shared their country, history, culture, arts & crafts, the Monpas, Buddhist philosophies, and dining in their homes and meeting their families I got to experienced the Bhutanese way of Being.
A few of the biggest brain changers for me in Bhutan came from visiting the beautiful and love-filled Dzongs (temples), camping, singing and dancing with the Monpas on their land, and completing the hike to Tigers Nest, the more common name for the Taktsang Palphug Monastery.
I want to share with you what I felt in the Dzongs of Bhutan now that I had a few days to figure out how to put my experience, feelings and emotions into words.
Each of the Dzongs I visited touched me so deeply that I paid great attention to reading the energy in each of them. When I tapped into the energy I was surprised to feel love and happiness and peace all combined. This is the first time I am stating this. I'm not sure I am giving what I experienced justice in this description.
Imagine love as an infinite body of peaceful water on a windless day, where everything is reflected in it. It was wordless, thoughtless, and emotionless and yet it was everything. It just was. It just IS! And it permeated every cell of my body.
Auspicious happenings…happen when you expect them!
Visiting our first temple, Paro Rimpung Dzong in Paro, Bhutan, something auspicious happened. A special inner sanctum within the temple was opened and the Lama invited us to come in and be blessed. Standing in the inner temple felt like being in a womb surrounded by beautiful, ornate, symbolic, and nourishing offerings. I felt as ONE and was washed with this energy of pure love inside. I could barely control my crying. I could feel my body and energy systems being cleansed with this love, happiness and peace.
I felt like a baby coming home to feed on its mother's breast and I let myself suck it in.
Notice, I'm am connecting love, happiness and peace as ONE energy. There were no manic highs or lows, rules, attachments, conditions or rituals needed to feel it. Each time I entered a temple and received a blessing I would first ask for the end of suffering for all human beings, as my prayer. As I let go of my old habitual attachments to suffering, I quickly opened up more to this ONE energy. It felt like this energy was the pulse of the Bhutanese people, and I couldn't help but want to strip myself clean and bask in it at my core. It was expansive and safe.
In the inner temple the Lama told us that we were not there by accident. (One of our guides has been there many times over many years and this was only his 5th time inside.  A second guide had been there over 200 times and he had never been inside.) This was the beginning of many auspicious times for our group of seven adventurers finding great nourishment in Bhutan!
For 2016, I want that my experiences guide you as an example of what is possible for you and that you receive my expanded knowledge and mindset to change your mind and change your life. Ask yourself what the advantages are of changing your mind and I will help you answer that question as we move forward together in our journey to turn ON our lives.
(Tune into my Millennials & Money Café episode with Tom Crawshaw this week. "Coincidentally" he is talking about how his experiences helped him change his mindset and how he's using this know-how to create experiences for others with his company Adventure Breakthrough. Click here for How to Handle Uncertainty to Dramatically Change Your Life.)
Click Here to Subscribe To My Weekly Newsletter and Podcast
Here's to living a turned ON life and BEING true to YOU in 2016
Loving you,
Marilyn