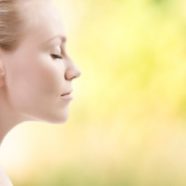 Creating a meditation practice is one of the most powerful steps you can take
for yourself mentally, physically, and spiritually.
I'm so excited to share this brain enhancement meditation with you. I wanted to make it as easy as possible for you to practice it daily. Therefore I created an audio for you to follow and the written instructions below.
As many of you know, I am fascinated with the physiology, neurology and psychology of the conscious and subconscious minds. Most of all I am curious about how they affect the brain's and your perception of yourself and your world.  The last ten years research has exploded in the field with information about your ability to reprogram your brain using your mind.
What you think and believe and the actions you take influence your brain.
Through conscious choice you can enhance different areas of your brain to strengthen underdeveloped areas and to calm down over-stimulated areas.  Neuroscientists have discovered that your brain can form new neural connections or pathways, creating new circuits within the brain, increasing your memory and cognitive skills.
What allows this is neuroplasticity, the ability of the human brain to structurally rearrange itself in response to a wide variety of positive and negative events.  Once the brain was thought to be an organ that slowly aged and today we know it is a constantly changing mass of activity. Your brain is not hardwired.
Research has shown that it takes 30-90 days of daily repetition to make a significant impact on developing new beliefs and habits when we consciously make the effort to acquire them.
Rather than go into the science intellectually,  I want to give you an experience and a tool to help you enhance your brain. I found this in my reading of "How God Changes Your Brain, Breakthrough Findings from a Leading Neuroscientist", by Andrew Newberg, MD, and Mark Waldman. I highly recommend this book for insight to how your minds and brain work and how spirituality and religious beliefs and experiences affect your brain positively or negatively.
The meditation I want to turn you and your brain onto today to improve your memory, cognitive function and emotions is called Kirtan Kriya. This meditation involves breathing, sound and movement. You can do it sitting, walking or running. At first you may feel a little clumsy, that's alright. Let yourself evolve in the process.
The meditation involves three repetition techniques.
1. Breathing
2. The second technique is following sounds sa, ta, na and ma which will either be said out loud (singing if you like), in a whisper (singing if you like) and internally. This is called a mantra. Each sound has a scared meaning. It actually doesn't matter what you are saying, except it be a positive energy expression to you, it is the repetition of sound over time that works the brain in different ways. You could replace these sounds with words such as  peace, grace, joy, love…Your choice.
3. The third technique involves finger movements called mudras. You sequentially touch your fingers with your thumb as you pronounce the sounds. Like you were counting to four with your thumb as the marker.
Touching each finger affects a different area of your brain.
Thumb to pointing finger-sa
Thumb to middle finger-ta
Thumb to ring finger-na
Thumb to pinky-ma
The Practice is 12 minutes (minimum), daily for 8 weeks to enhance your brain.
You can play with it as you go, repetition and consistency is very important for significant brain changes. You will feel and sense changes right away, but the programming comes with ritual, repetition, emotion, and consistency.
2 minutes out loud
2 minutes whisper
4 minutes internally
2 minutes whisper
2 minutes out loud
Here is a guided audio that has a chime to indicate a change and tells you whether you are saying the mantra out loud, as a whisper or internally. To get the recording to the right size for download I had to stop the recording after the last instructions to say the mantra out loud. The recording will end and you continue on for 2 minutes or more. At the end sit for 1 minute or more and feel.
This way you don't have to worry about timing, become consciously relaxed. Get yourself comfortable and sitting with straight back and focus on your breath to get you centered and in this moment for a minute or two. Then begin.
I have used the meditation while walking, estimating the 2 minute timing, for 40 minutes as well as seated for 12 minutes.
I added it to my daily practice along with my other meditation.
I've practiced meditation almost everyday for over 10 years and I can honestly say it has helped shape who I am today and my confidence. Numerous studies on meditation have shown to reduce stress, anxiety, and blood pressure and improved other health related issues. Meditation positively impacts your immunity, aging and cell death while increasing alertness and cognitive functioning.
Please share your experiences and ask for help if you're confused or stuck.
To your magnificence,
Marilyn