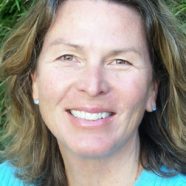 Like a lot of high school girls I wore makeup. Before school I would pick out one of my 1970's bright colored eye shadows and apply it. I'd then comb two layers of mascara on my eyes lashes and powder a small amount of blush on each my cheeks. Lastly I would draw on some light colored lipstick.
I don't even remember making the decision that I wanted to wear makeup. It was what you did, as a right of passage following the older girls. My mom wore makeup. I remember watching her in awe transform her face with all the liquids, powders, pencils and colors. I never remember saying I want to do that.  My sister, who was younger than me and ran with the in-crowd, wore makeup before I did because all her friends did.
Without thinking too much about it I started applying it daily and before I knew it, it was part of my morning routine.  Until one day I came home and took the makeup off my eyes and didn't like how I looked or felt about myself.  I didn't like how my eyes looked. I thought they looked plain.  If I looked plain I must be boring!
I decided right there and then to not wear any more makeup until I liked what I saw staring back at me in the mirror. From that day on I've rarely worn makeup except for special occasions.
I ended up liking my face and features and decided if I liked what I saw in the mirror why would I want to cover it up. I liked me and I was far from boring, so why do I need anything more. Today wearing makeup makes me feel like putting on a face that is not mine, a mask; it doesn't feel authentic to me.
There have never been any men in my life that have requested I wear it. In fact they all liked that I didn't wear it. Another bonus is it doesn't take long for me to get ready to go somewhere.
When I was a body working entrepreneur natural was perfect. When I started networking with other entrepreneurs and businesswomen I started to notice some judgments that I didn't play up my assets with makeup and package myself.
I wasn't willing to sell myself short to make others comfortable even if I am uncomfortable.  For some reason, I instinctively knew, as a teenage girl, it was important to love me first and foremost.  I was building the foundation of who I am today, authentically powerful without makeup.
Where have you made a decision to choose you over what was expected of you?
Where are you following the crowd and it isn't authentically serving you?
To living a life you love,
Marilyn